Top-Rated Lantana Hair Loss Centers
Are you tired of relying on toxic chemicals to restore your hair? Do you spend hours researching solutions for hair loss, and far too much money on overpriced products that don't produce results? Then it's time for you to kick hair loss anxiety by switching to natural solutions, like our natural hair salon in Lantana, Florida.
You may be wondering, if I shouldn't rely on products with potentially dangerous chemicals, what options do I have? Fortunately, you have several natural alternatives, including oxygen treatment, Scalp Detoxification, Scalp Exfoliation, and more.
Certified Hair Loss Centers In Lantana
While an oxygen treatment may sound scientific, it's really simple. An oxygen treatment relies on, you guessed it, oxygen to increase blood flow, resulting in hair growth. Your hair treatment really couldn't be more natural than using the same oxygen we rely on to breathe.
Not only does an oxygen treatment increase the likelihood of hair growth, but it also removes bacteria and fights conditions like dandruff, dry and itchy scalp, and various forms of alopecia. The oxygen treatment acts as a hair growth stimulant while treating threats to healthy hair.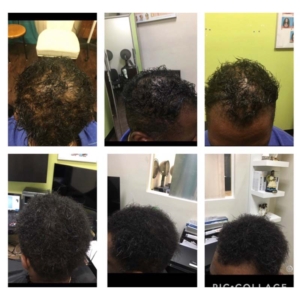 We Offer Healthy Hair Services in Lantana
We've all been there. You scratch your head, now it's raining flakes. Or maybe no matter how much you oil your hair, it constantly looks dry, but leaves your scalp moist. These results could be from a large amount of dead skin or oil buildup. Both dead skin and oil buildup prevent you from having healthy hair.
Luckily, scalp detoxifications are common practice in natural salons. Scalp Detoxification will lower the amount of dead skin or oil buildup, allowing your hair to thrive.
If you are confident that you don't have severe scalp build-up but want to treat yourself to some well-deserved hair maintenance, the scalp exfoliation is for you. Scalp exfoliation is a relaxing way to prevent dead skin buildup. This process uses natural oils to keep psoriasis, dermatitis, and flaky scalp at bay.
Have You Been Searching for Natural Hair Salons in Lantana?
While the three above options are awesome natural alternatives to products with hard-to-pronounce chemicals in them, there are other options. To view more natural services for healthy hair, take a moment to visit Angel's Eyes of Beauty, a black-owned natural hair salon.
Our hair loss treatments include an initial consultation, a hair scalp analysis, and a customized treatment plan. Call us today to discuss how we can help you with your hair loss or scalp needs and issues.
Another additional professional hair cut, style, and color services we offer at Angel's Eyes of Beauty range from shampoo and wrap to styling and updos to relaxer and dry curl. We also offer waxing and eyelashes.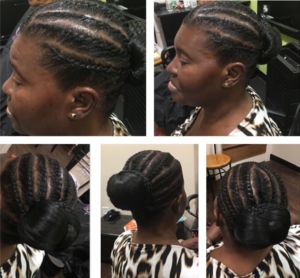 Call Today for Lantana Hair Loss & Natural Hair Services!
Now that you understand natural hair services, all that's left is finding a natural hair salon near you. If you're near Lantana Florida, you are only moments away from starting your healthy hair journey with Angel's Eyes of Beauty.
With over 20 years of experience, Angel's Eyes of Beauty offers much more than ordinary hair loss centers in Lantana. Angel's Eyes of Beauty is one of few natural hair salons in Lantana that is a black-owned hair salon.
That's right, Angel's Eyes of Beauty is very knowledgeable in treating the hair of women of color, as one of few natural African-American-owned hair salons in the area. If you are a sister, you know far too well the difficulty of finding experts who look like you and understand the special love that voluminous, kinky, magical hair needs.
Whether you are visiting us in Lantana to fight hair loss or not, remember that an ounce of prevention is worth a pound of cure. Do yourself a favor and treat yourself to one of our many healthy hair services in Lantana.
"I Love Angie & Tangie. They are wonderful ladies, & both can put a whooping on your hair. I just went on 7/5/14 & was well pleased as always. I have been natural for over 2 yrs & when I left, i looked like & had got a perm. Christian atmosphere, Christian music & nice people."
Satisfied Customer