Our Vision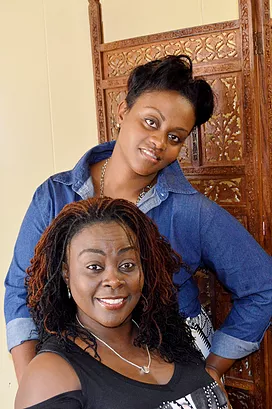 Angel's Eyes of Beauty specializes in restoring healthy hair. We are committed to exceptional customer service. Our team is professional, talented and continuously educated. Our dedicated staff will strive to provide the highest level of professionalism to each and every client, thereby building a long-lasting relationship of trust and commitment in a christian like environment.
Angela Williams
Angela Williams is a Certified Trichologist ( Hairloss & Scalp Specialist), Cosmetologist and the Owner of Angels Eyes of Beauty. For over 20 yrs , She has made all generations of women look and feel fabulous. During her journey she realize the same gifts and talent in her oldest daughter Tangie and now the two power houses are putting love and integrity back into Maintaining /Restoring Healthy Hair for women and kids. She believe all Gifts are from God , and she don't mind sharing his Love. And when you walk into Angles you will feel her Passion and love for Healthy Hair.
Tangela Graham
Tangela is a Senior Stylist at Angels eyes of Beauty. Her expertise includes Coloring, Smoothing Treatment, Waxing, Shampooing, and Healthy Hair. Tangela has been in the beauty industry for 17 yrs, she began her hair journey at the age of 12 when she began helping her moms growing salon and had customers in ahh with her one of a kind shampoos. While admiring her moms talent and work ethic she decided to attend cosmetology school while in high school. Durning the years Tangela and her mother Angela has been a driving force by putting their passion and heart into the salon. Her mom Angela will say "she's her rock and wouldn't be successful without her".
"I Love Angie & Tangie. They are wonderful ladies, & both can put a whooping on your hair. I just went on 7/5/14 & was well pleased as always. I have been natural for over 2 yrs & when I left, i looked like & had got a perm. Christian atmosphere, Christian music & nice people."
Satisfied Customer