Top-Rated Hair Loss Centers in Boynton Beach
It's time for your fall refresh. If you experience hair loss, you may be looking for a way to get your luscious locks flowing again. Look no further than our team of professionals at Angel's Eyes of Beauty in Boynton Beach, FL. We have years of experience in restoring healthy hair through hair loss treatments and hair restoration. Our Hair loss specialists have over 30 years of combined experience. You won't be in better hands than with our team of professionals. If you're looking for a way to stop hair loss, or restore your hair to its former glory, give us a call today. We can't wait to help you on your hair restoration journey.
Expert Hair Loss Specialists Boynton Beach Residents Trust
Our hair loss restoration and hair loss treatments are designed to nurture your natural fibers to encourage your hair to strengthen and encourage hair growth. We don't specialize in just one kind of hair loss treatments, we create customized plans for all types of hair loss causes. We'll work with you to determine what is causing your hair loss, and we'll attack the cause at the source and using targeted treatment methods. With our experience, we get better results than other hair loss centers in Boynton Beach, every time.
We use a combination of scalp detoxification and scalp exfoliation to encourage hair growth and prevent further hair loss. Scalp detoxification decreases buildup of oils, skin cells, pollutants, and excess product used. Scalp exfoliation removes all the buildup that the scalp detoxification brings out of you. Once we start the exfoliation the natural oils in your hair will be nourished and the symptoms of your psoriasis, dermatitis, or flaky scalp will be reduced. With our years of experience, we will help you with the treatment that works best for you. Call us today to discuss our natural hair services in the Boynton Beach area!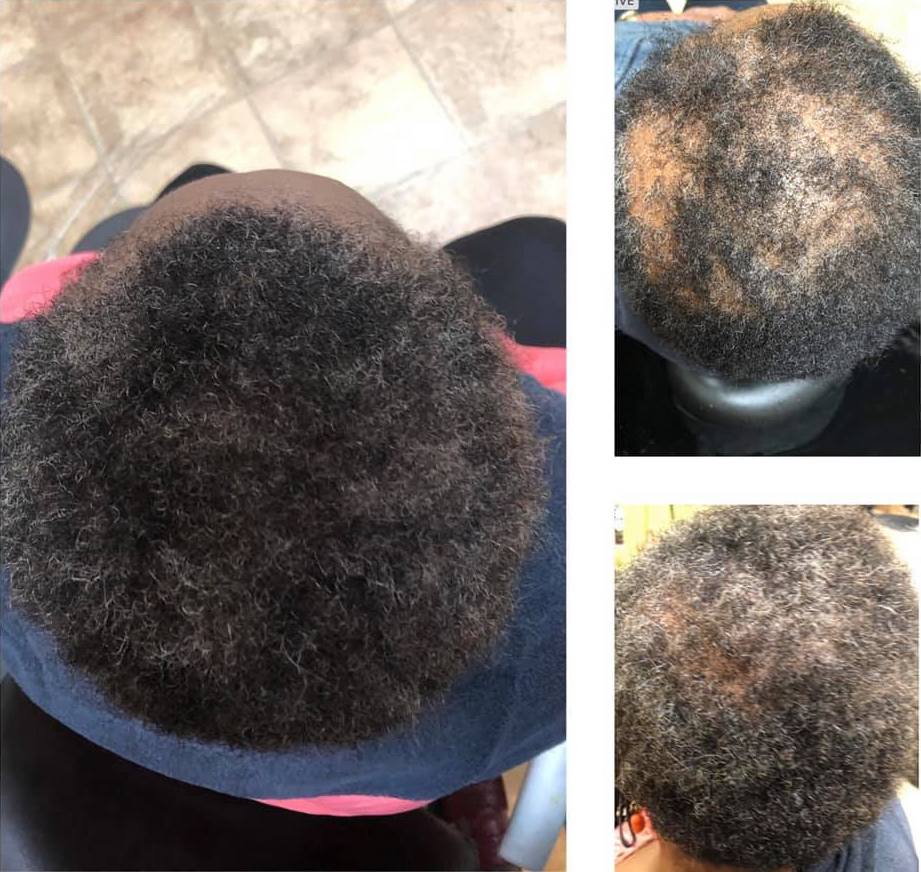 We Offer Scalp Exfoliation & Detoxification!
We've been working in the Boynton Beach area for a number of years. Boynton Beach is a city in Palm Beach County, FL and it is 57 miles north of Miami. Some of our favorite things to do in the Boynton Beach, FL area include visiting the Boynton Beach Inlet, Oceanfront Park, Boynton Harbor Marina, and so much more. If you're new to the area, or a long time resident, we can't wait to welcome you into our hair loss treatment family. We love servicing the Boynton Beach, FL area because the community is so kind and friendly. We'll be servicing this community for years to come.
Call Today for the Best Boynton Beach Hair Loss Treatments!
Don't forget our name when you're looking for hair loss centers in Boynton Beach, FL. We have years of experience to back up our hair loss treatment plans. When you work with us, we focus on the individual customer experience. We don't take a one size fits all approach. We are focused on tackling individual issues and building a hair loss treatment plan for the person in front of us. It's not too late to get on our books before the holiday season. Give us a call today and one of our hair loss specialists will answer any questions you have about the process.
"I Love Angie & Tangie. They are wonderful ladies, & both can put a whooping on your hair. I just went on 7/5/14 & was well pleased as always. I have been natural for over 2 yrs & when I left, i looked like & had got a perm. Christian atmosphere, Christian music & nice people."
Satisfied Customer