Top-Rated Boynton Beach Hair Loss Centers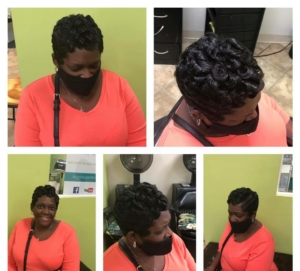 Angel's Eyes Of Beauty is a top-rated and premier natural hair salon Boynton Beach. We know that when you are looking for natural hair salons in Boynton Beach, that experience and knowledge matter. A black owned hair salon for more than 20 years, the certified trichologists and licensed cosmetologists at Angel's Eyes Of Beauty specialize in natural hair services and healthy hair services Boynton Beach.
We Offer Healthy Hair Services in Boynton Beach
We specialize in restoring healthy hair Boynton Beach. We are committed to exceptional customer service. Our team is professional, talented and continuously educated. Our dedicated staff will strive to provide the highest level of professionalism to each and every client. Our goal is to build long-lasting relationships of trust and commitment with all of our clients. This combination of experience and superior customer service makes us the experts in Boynton Beach hair loss solutions and the leading hair loss centers Boynton Beach.
Our stylists have made generations of women look and feel beautiful. For more than two decades, our natural hair salon Boynton Beach, has been putting love and integrity back into maintaining and restoring healthy hair for women and kids. Angel's Eyes Of Beauty is an African American owned hair salons committed to raising the standards for natural hair services and hair loss solutions. If you have been searching for a black owned hair salon near me Boynton Beach, or a natural hair salon Boynton Beach, look no further than the experienced professionals at Angel's Eyes Of Beauty.
Have you been Searching for Natural Hair Salons in Boynton Beach?
Family owned, we believe in the power of relationships. We will treat you like family and provide you with natural hair and hair loss solutions that are customized to your own unique needs. For a full professional consultation and to discover what makes us the best natural hair salon Boynton Beach, call or visit us today!
"I Love Angie & Tangie. They are wonderful ladies, & both can put a whooping on your hair. I just went on 7/5/14 & was well pleased as always. I have been natural for over 2 yrs & when I left, i looked like & had got a perm. Christian atmosphere, Christian music & nice people."
Satisfied Customer